Same Day Dental Implants
If you have missing teeth, dental implants may be the answer you are looking for to restore your smile. Dental implants are very similar to the feel of natural teeth. Since implants are permanently secured to the jawbone, the implant will fuse to the bone over time. Normally, dental implant procedures can require months of healing before the restoration can be attached to the implant. With All-on-4 dental implants, you can have a same-day smile with both implants and new teeth placed in one day.
If you live in the greater Sacramento area, 1899 Dental Implant can help. Our office in Elk Grove, CA, can perform a thorough examination and discuss the benefits of same-day smiles with All-on-4 dental implants. Contact us to book a consultation and see if you are a good candidate for same-day implantation. The team at 1899 Dental Implant can get you back to your normal routine quickly with same-day teeth.
Dental implants have become the go-to treatment for missing teeth, and same-day implants are a great option for those with busy schedules who don't have a lot of downtime. All-on-4 dental implants are perfect for those who do not want to be without their smile for days, weeks or months. This "teeth in a day" procedure is an excellent option if you lead a busy lifestyle and do not want to invest multiple days for treatment.
Benefits of All-on-4 Dental Implants
If you are still unsure if All-on-4 dental implants are right for you, let's examine the different full mouth replacement options available and compare those to same-day dental implants. Other treatments for full smile restorations include traditional dentures and full mouth reconstruction with dental implants. Dentures without implant support can slip out of place, require removal each night and gritty adhesive to hold them in place. Full mouth dental implants are incredible for smile replacement, but they can be expensive and require more prolonged healing and treatment.
All-on-4 dental implants, or "teeth in a day," offer many benefits. You get the advantages of implants combined with the convenience of a same-day smile. Benefits include:
Longevity: Dental implants, with proper care, can last a lifetime, giving you a long-lasting new smile.
Oral health: Since dental implants are attached to the jawbone, they act like natural teeth. This prevents jawbone deterioration and preserves the facial structure.
Ease of care: All-on-4 dental implants act like natural teeth, so cleaning is simple. You can brush them like your natural smile.
Same-day smile: The procedure for implants and attaching the prosthetic teeth can be completed the same day. You will not need to go without teeth with All-on-4 implants.
Affordable: All-on-4 dental implants are less expensive than many other implant smile restorations since only four implants are needed to support each arch of teeth.
Are Teeth in a Day Right for You?
Dental implants are a wise investment, but how do you know if "teeth in a day" are a good choice? The expert staff at 1899 Dental Implant can explain the All-on-4 dental implant treatment process, ensuring that you have all the information you need to make an informed choice. Dr. Dalla will perform a complete exam to determine if you are a good candidate for same-day dental implants. Due to the advanced method used with All-on-4 dental implants, less bone is needed, and more people are qualified for this cutting-edge smile restoration. There is a good chance you are a good candidate for same-day teeth – visit us and find out more about restoring your smile with dental implants.
With the advancements in dental implant technology, it's possible to leave the dentist's office with a same-day smile in a single appointment. Our warm, friendly staff is here to help you investigate all your options. Contact our Elk Grove office at 1899 Dental Implant today and get ready for a brand-new, same-day smile!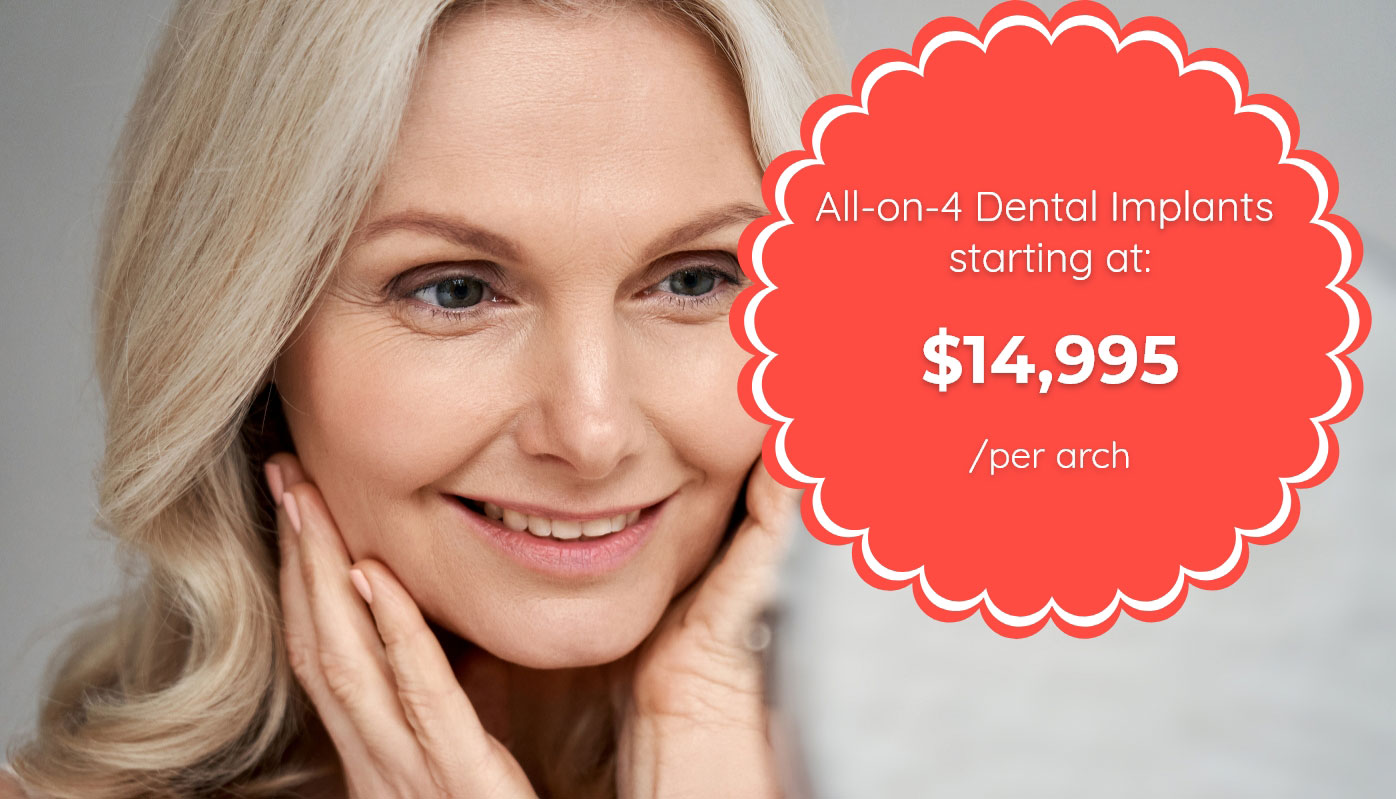 Contact Us and Get Your New Smile!