All on 4 Dentures & Implants
All-on-4 dentures is a very popular concept these days, and if you live in Sacramento it is easy to get your smile back and enjoy the food with permanent fixed teeth on just 4 dental implants.
All-on-4 dental implants are done to minimize the need for bone grafting in the sinus region and avoid the complications of nerve being close in the lower arch.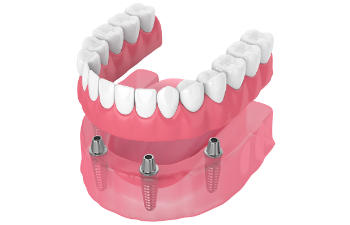 In All-on-4 treatment, 4 dental implants are placed in one arch and 2 dental implants are placed at an angle to get the more surface area to stable the fixed denture. Denture gets screwed into the dental implants.
All-on-4 dental procedure is very predictable and has high success rate. At www.1899dentalimplant.com we have affiliated dentists in Elk Grove CA, Walnut Creek CA, Roseville & Napa CA and they are performing hundreds of all-on-4 dental implant surgeries on routinely basis.
No matter if you are in Elk Grove, Sacramento, Walnut Creek CA, Roseville or Napa CA, we have best implant specialists with advanced training just in dental implants.
Cost of All-on-4 denture starts anywhere from $12,000 per single arch (lower or upper) and it can go up to $16,000 per single arch (upper or lower) depending upon the bone density, any additional procedures needs to done or not, like extractions, type of teeth being used in final bridge.
Our fees are at least 30% less than what other dental offices are charging. We are committed to provide best All-on-4 dental implant dentures experience in Elk Grove, Sacramento CA. Please contact us today and we will be able to connect to your local dentist.
CT SCAN is Free
Consult is Free
Price Match Guarantee
Best Quality Dental Implants
Porcelain/Zirconia Teeth
Teeth in a day
Before
After
Before
After
Before
After
Before
After
Before
After
Before
After
Before
After
Before
After
Before
After
Before
After
Before
After
Before
After
Before
After
Before
After