Full Mouth Reconstruction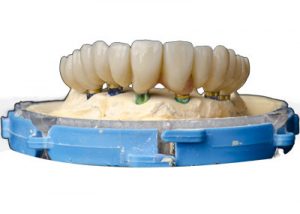 Do you have a smile you can be proud of, or do you keep your smile hidden due to missing, damaged or decayed teeth? When your teeth are missing or are not in the best shape, your looks, health and self-confidence can be affected. With a full mouth reconstruction, a variety of dental treatments can get your mouth back in shape and looking beautiful once again.
Our full mouth reconstruction applies the science of restorative dentistry and the aesthetics of skilled workmanship to improve the quality of your oral health. Dental implants fill in the gaps left by missing teeth and give your smile a beautiful, natural appearance while restoring valuable surface area for proper chewing of your food.
The Benefits of Dental Implants
In a full mouth reconstruction, using dental implants to address the issue of missing teeth provides many benefits in addition to improving your appearance. Dental implants offer:
A long-lasting solution to missing teeth, as they are designed to last a lifetime.
Stability, unlike traditional removable partial and full dentures, which often need adhesives to keep them seated.
Stimulation for the jaw bone so that bone loss is prevented.
Structure for facial features which can be lost or impaired with missing teeth.
A mouth with missing, damaged and decayed teeth is an unhealthy mouth. A full mouth reconstruction will remedy all those problems and put you back on the road to oral health. Dental implants provide you with the most natural looking restorations for missing teeth. If you have one, many or all your teeth missing, 1899 Dental Implants can make a difference without making a problem for you financially.
Contact 1899 Dental Implant today to learn more about how you can have a full mouth reconstruction and get back your beautiful smile. We will help you find an affiliated implant dentist near you.