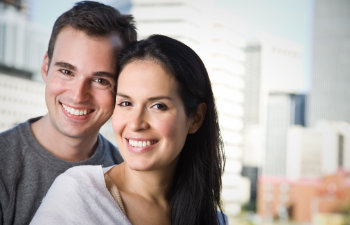 If you having missing teeth but have been told that you can't get dental implants due to adequate bone support, it means that your jaw bone lacks the density and height to properly support a surgically placed dental implant. Dental implants are meant to act like an artificial tooth root. Once these posts are inserted into the jaw bone, the surrounding bone will fuse to the implant over time to form a strong and secure foundation for your prosthetic tooth or teeth. It makes sense, therefore, that a shrinking jaw bone could cause the dental implant to fail altogether.
Don't worry; you can still qualify for dental implants with the game changing procedure of bone grafting.
Why You May Need Bone Grafting
There are many reasons why your jaw bone can lose its density and height over time. Gum disease is a leading culprit, and may be the reason why you lost your tooth in the first place. It is also likely that if you neglected to restore a lost tooth, the bone underneath started to shrink or atrophy due to lack of stimulation. Regardless of why you don't have a good jaw bone and need bone grafting, you can trust 1899 Dental Implant for a superior experience start to finish.
What to Expect During the Bone Grafting Process
Bone grafting is a common procedure that simply involves adding bone tissue to the jaw to create a stable foundation for the implant to be placed.
Here is what you can expect during the bone grafting procedure for dental implants:
Bone Graft Placement
A small incision will be made in the gum tissue to access the bone underneath. Our 1899 Dental Implant dentist will carefully place the bone graft material into the space created by the incision. The bone graft material may come from a donor, or it may be taken from another part of your body, such as your hip or chin. Once the graft is secure, the incision will be closed with sutures.
Recovery and Healing
You may experience some swelling and discomfort after the procedure, which can be managed with over-the-counter pain medications and ice packs. At 1899 Dental Implant, we will provide detailed instructions on how to care for your graft site and promote optimal healing. You should expect the bone graft to need several months to fully heal and be ready for dental implant surgery.
At 1899 Dental Implant, our bone grafting procedures are carried out with elite precision. We also utilize modern local anesthetics and sedation dentistry to ensure your procedure is comfortable. To learn more about what to expect with bone grafting or how you can qualify for dental implants, please call our Elk Grove office today.
Posted on behalf of 1899 Dental Implant
2733 Elk Grove Blvd #160
Elk Grove, CA 95758
Phone: (877) 468-1899
Monday - Thursday 7:30 AM – 6:00 PM
Friday 7:30 AM – 4:00 PM
Saturday 8:00 AM – 5:00 PM
Sunday - Closed