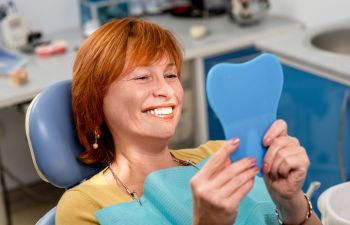 Unless you are a little kid awaiting a visit from the Tooth Fairy, missing teeth are not a welcome event. In fact, losing adult teeth can cause notable angst – especially if you have to wait several weeks or months until your missing teeth get replaced. Fortunately, modern restorative dentistry offers a solution for many patients. Same Day Dental Implants offer many advantages, including the convenience and assurance of walking away with prosthetic teeth in just one dental visit.
Conventional dental implant typically require various steps that are strategically scheduled across a 3 to 6 month time frame. However, for patients who qualify, same day dental implants drastically shorten this lengthy process. With this innovative implant system, you can replace a full arch of missing teeth in a single day. There's no need to worry about walking around with embarrassing gaps in your smile or avoiding foods due to missing teeth. You can even avoid bone grafting in certain cases.
Same Day Implants offer plenty of advantages, but do you qualify? Teeth in a Day are typically best for the following patients:
Good overall health
Adequate bone and soft tissue support
Planning extractions
Need to replace a full arch of teeth at one time.
How can Same Day Implants be used to replace all of your teeth at one time? We can design a full-arch overdenture that snaps onto 4-6 implants for added stability. This is why we call them "All-on-4" dental implants. The overdenture can be made ahead of time, even if you're planning on having teeth extracted. Having dental implants installed is a relatively comfortable and straightforward process.
All-on-4 dental implants offer a list of very valued benefits beyond their same-day convenience:
Lasts a lifetime
Prevents jaw bone deterioration
Easy to care for
Affordable
More comfortable process
If you're considering getting dental implants or replacing your teeth with a same-day prosthesis, we encourage you to talk with our experts at 1899 Dental Implants. With our expansive menu of dental implant options, we'll help you create a smile plan that fits your needs and timeline.
Posted on behalf of 1899 Dental Implant
2733 Elk Grove Blvd #160
Elk Grove, CA 95758
Phone: (877) 468-1899
Monday - Thursday 7:30 AM – 6:00 PM
Friday 7:30 AM – 4:00 PM
Saturday 8:00 AM – 5:00 PM
Sunday - Closed