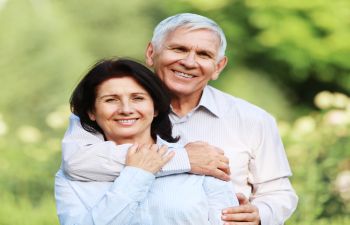 Dental implants represent one of the most remarkable advancements in modern dentistry. They can replace missing teeth in a way that looks, feel and functions most like your natural teeth. With an artificial tooth root that is surgically placed into the jawbone, dental implants have provided long-term stability and secure function for countless patients across the world.
Dental implants continue to evolve and improve. In fact, modern technology and advanced technique now allow patients to get same day implants. Conventional dental implants require a waiting period after the titanium post (artificial tooth root) is placed into the jawbone. This time of healing can be 4 to 6 months to allow the implant to fuse to the bone during a process called osseointegration. However, a skilled implant dentist who has access to the latest technology can place the implant (root) and fixed dental restoration (tooth) in the very same day.
How is it possible to provide same day implants? Various factors have enabled this sophisticated approach, including new surface coating of implants that support faster bone growth around the implant (accelerating osseointegration). The most significant influence on same day implant capability, however, is the cutting-edge technology that is now available. Advanced 3D imaging (Cone Beam and CAD/CAM technologies) can reduce surgical trauma and allow the most precise placement of the implant. Furthermore, CEREC technology can be utilized to streamline the final implant restoration stage. This system fabricates custom crowns in a single visit, without the need for messy impressions or temporaries.
In patients that need tooth extraction, the same hole that held the original tooth root can be utilized for the implant. This greatly reduces damage to the surrounding tissues, accelerates healing at the surgical site and also prevents bone loss that would occur without a tooth root.  It is important to note that studies show that the immediate placement of the implant does not compromise the bonding between the bone and implant. Up to 70% of implant patients qualify for same day implants. The key is to find a dentist who offers this procedure.
1899 Dental Implant proudly adopts the latest technology and technique in implant dentistry. Therefore, we routinely perform same day implants for those who qualify. We believe this is an invaluable opportunity that allows patients to gain the gold standard in tooth replacement with maximum convenience and affordability.
Posted on behalf of 1899 Dental Implant
2733 Elk Grove Blvd #160
Elk Grove, CA 95758
Phone: (877) 468-1899
Monday - Thursday 7:30 AM – 6:00 PM
Friday 7:30 AM – 4:00 PM
Saturday 8:00 AM – 5:00 PM
Sunday - Closed