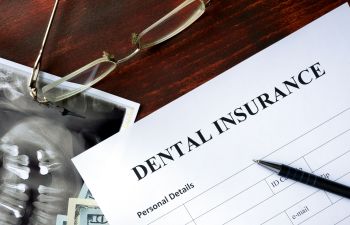 While dental implants offer remarkable advantages over other teeth replacement methods, they do tend to be more expensive. It is common for patients to question how they are going to pay for their new teeth if they were to choose implant dentistry. If you have a dental insurance plan, you may be curious as to whether you'll be covered fully, partially or not at all.
At 1899 Dental Implant, we know that your budget is a factor you can't ignore when choosing how you will replace your missing teeth. That's why we do our part to educate patients and offer them the most affordable options possible.
Insurance and Dental Implants
Insurance companies can vary widely in what they are willing to cover within your dental treatment plan. How much coverage you receive will often be based on the type of plan you have and the company that covers you. It can also depend on the reason that you are getting dental implants in the first place.
In general, dental insurance companies deny coverage for cosmetic dentistry. Therefore, if you are getting dental implants for aesthetic purposes, you may not get coverage. However, if you are opting to have dental implants due to a tooth (or teeth) that was lost in a sudden trauma or accident, you may get some level of coverage.
What if your dental insurance plan covers partials or dentures but you really want dental implants? In such cases, patients can typically use the denture coverage amount and apply it towards implant dentistry. Keep in mind that if you are fighting your dental insurance company for implant coverage, having a skilled and experienced implant dentist will help your case!
Affordable Dental Implants
At 1899 Dental Implant, we've built our practice on providing dental implants that offer both quality and affordability. That's why we have gone above and beyond to make dental implants available to more people by offering them at a valued low rate of $1899 (compared to typical $2,000-$5,000 price tag). Not only can we work with your insurance provider to maximize your coverage, but our Napa Valley office also offers payment options and financing through Proceed Finance.
Don't let cost hold you back from getting the most life-like tooth replacement solution available. Call 1899 Dental Implant today.
Posted on behalf of 1899 Dental Implant
2733 Elk Grove Blvd #160
Elk Grove, CA 95758
Phone: (877) 468-1899
Monday - Thursday 7:30 AM – 6:00 PM
Friday 7:30 AM – 4:00 PM
Saturday 8:00 AM – 5:00 PM
Sunday - Closed