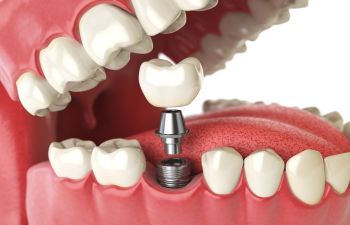 With today's dental advancements, there are many ways to restore a diseased or damaged tooth and save it from extraction. For teeth that have extensive areas of decay or an infection in the central portion of the tooth, a root canal may be recommended. A root canal is a straightforward procedure that involves removing the diseased pulp of the tooth, disinfecting the inner chambers of the tooth and sealing it off for future protection. In most cases, the tooth is also capped with a dental crown to restore optimal integrity and strength to the tooth. Root canals are the gold standard solution for saving a diseased tooth. But what if a root canal isn't quite enough to save your tooth?
A Tooth Extraction is Not the End of the World
If a dental filling, crown or root canal is unable to restore the health of a tooth, it will likely need to be extracted. Your neighboring teeth and underlying bone are at risk if you neglect to remove a severely diseased tooth. Tooth extractions, however, are nothing to fear. Many patients are devastated at the thought of losing a permanent tooth. While this is certainly understandable, there are remarkable ways to replace a natural tooth using today's innovations in modern dentistry.
Replacing Your Missing Tooth is Important
Not only is replacing your tooth necessary for restoring the aesthetics of your smile, but it is crucial to your oral health. A missing tooth can cause adjacent teeth to shift out of position, which creates hard-to-reach places for your toothbrush. In addition, your jawbone can begin to atrophy with just one missing tooth. It needs to be properly stimulated in order to retain its form and density.
Dental Implants Are Superior
If a root canal is unable to save your diseased tooth and you want the most preferred solution available, consider dental implants. Dental implants look, function and feel just like natural teeth. In addition, they are the only tooth replacement option that is proven to prevent the inevitable bone loss that occurs with missing teeth. Using the latest systems, you may not even have to wait long between your tooth extraction and your dental implant replacement.
To learn more about saving your smile with dental implants, give us a call 1899 Dental Implant. Restoring smiles is what we do best.
Posted on behalf of 1899 Dental Implant
2733 Elk Grove Blvd #160
Elk Grove, CA 95758
Phone: (877) 468-1899
Monday - Thursday 7:30 AM – 6:00 PM
Friday 7:30 AM – 4:00 PM
Saturday 8:00 AM – 5:00 PM
Sunday - Closed