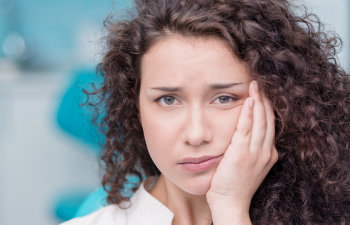 Dental implants are the most superior and long-term solution for missing teeth. However, unlike traditional dentures, bridges or partials, your dental implants will require a special oral surgery. The implants work better than other restorative options because they are inserted into your jawbone – just like real teeth. While dental implant surgery can seem intimidating, our team at 1899 Dental Implant is here to make your recovery as stress-free as possible.
Here are three of the most commonly asked questions regarding dental implant recovery:
#1 How Long Does the Discomfort Last?
The type and number of implants you get will impact the severity and duration of your discomfort. In general, however, you should expect minimal pain that peaks about about 3-5 days after your treatment. Rest assured that dental pain and soreness after implant surgery will gradually dissipate, instead of stopping suddenly. Ice, rest, soft foods and pain relievers are key to protecting your comfort during recovery.
#2 When Will the Implant Heal?
Again, your dental implant recovery time will depend on the type of surgery you have, including whether you had extractions and/or bone grafting. Depending on the condition/health of your jaw and the number of implants that were placed, your initial healing phase can be anywhere from 1-2 weeks. However, full implant healing in which the implant fuses to the surrounding bone may take 3 to 6 months.
#3 What Should I Eat After Getting Dental Implants?
After getting your dental implants, you won't be able to eat anything you wish. While the implants are healing below the gum line, there are important blood clots forming to repair the wounds from your surgery. Don't worry; you won't starve. However, we do recommend that you stick to a (non-spicy) soft-foods diet and avoid drinking through a straw. Here are some healthy and yummy foods that are generally safe to consumer after dental implant surgery:
Mashed potatoes
Bakes or cooked beans
Soup
Bananas
Healthy juices
Jell-O
Apple sauce
Puddling
Yogurt
Oatmeal
At 1899 Dental Implant, we understand that getting dental implants is a big deal, but the reward is often life-changing. We want our patients to be as prepared as possible when heading into implant surgery. To this end, we will provide detailed post-operative instructions and stay just a phone call away during your recovery and healing process.
Posted on behalf of 1899 Dental Implant
2733 Elk Grove Blvd #160
Elk Grove, CA 95758
Phone: (877) 468-1899
Monday - Thursday 7:30 AM – 6:00 PM
Friday 7:30 AM – 4:00 PM
Saturday 8:00 AM – 5:00 PM
Sunday - Closed