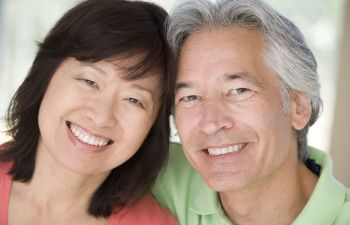 Zygomatic bone implants are one of most advanced and most specialized types of implantology. These dental implants are uniquely constructed and placed to help patients avoid bone grafting before getting dental implants. Some of these patients consider turning away from dental implants altogether when they are told they do not have enough upper jaw bone to support a dental implant. After all, pre-requisite procedures like bone grafting and sinus lift surgery can be invasive, expensive and significantly prolong the teeth-replacement process.
Not all implant dentists are qualified and equipped to offer zygomatic implants. For a large number of patients, however, zygomatic implants bring profound advantages. Inadequate bone structure is a common occurrence for those with missing teeth. If you do not get dental implants in a timely manner after tooth loss, the jaw bone begins to atrophy or deteriorate from the lack of stimulation. If you are considering traditional implants, this would require a bone graft to enable you to take advantage of implant dentistry. With zygomatic implants, you can skip this lengthy step and get immediate teeth!
The Zygomatic Implant Difference
Zygomatic implants were first introduced in 1988 as a new implant solution. This is a complex procedure that requires strategically guided imaging and a skilled implant dentist. While traditional implants include a short titanium post or screw that is surgically implanted in the jawbone, a zygomatic implant consists of a longer post that can be placed at an angle and into the cheekbone (or 'zygomatic arch') instead of the jaw. The cheekbone is denser and offers a more ideal support for the implant if there is bone loss in the jaw. Patients can expect a permanent and stable solution for their upper teeth replacement – without the extra expense and sacrifice of bone grafting.
Zygomatic implants offer the following valued benefits:
Quicker results – can lessen treatment time by several months
More comfortable and predictable alternative to bone grafting
Longer lasting than traditional implants
Have you been told that you don't have enough bone structure to support traditional implants? Before you resort to bone grafting, we invite you to consider zygomatic implants. To learn your candidacy for zygomatic implants, call 1899 Dental Implant in Elk Grove today.
Posted on behalf of 1899 Dental Implant
2733 Elk Grove Blvd #160
Elk Grove, CA 95758
Phone: (877) 468-1899
Monday - Thursday 7:30 AM – 6:00 PM
Friday 7:30 AM – 4:00 PM
Saturday 8:00 AM – 5:00 PM
Sunday - Closed