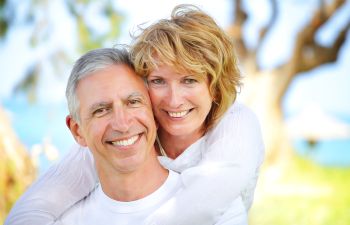 Missing teeth bring more setbacks than an unsightly smile. In fact, when permanent teeth are not replaced with dental implants, there are consequences that can affect your health and quality of life. By using a dental implant (or multiple implants) to replace both the missing tooth and tooth root, you can avoid some major obstacles associated with missing teeth. Implant dentistry can save your smile and your well-being in the following four ways:
#1 Avoid Cosmetic Compromise
It's the most obvious drawback of a missing tooth – that unsightly gap left in your smile. This can be a major source of embarrassment and low self-esteem for many patients who neglect to replace a missing tooth.
#2 Preserve Speech and Chewing Function
Each tooth has a functional responsibility. Therefore, when one or two go missing, you may find it difficult to say certain words and chew your food properly. This is a long-term consequence that can significantly impact your quality of life and nutritional health.
#3 Stop Shifting Teeth
When a tooth is extracted or falls out, the neighboring teeth will soon migrate towards the open gap. This process begins sooner than you may think. In result, you may be left with a crooked smile, bite misalignment or tight spaces that are difficult to keep clean.
#4 Prevent Bone Loss
There are even problems that occur beneath the surface of a missing tooth. Your jaw bone needs adequate stimulation from your tooth roots in order to retain its density and form. When a tooth is absent, the jawbone will gradually begin to atrophy or resorb within the body. This leads to a sunken appearance in the lower face, which many people refer to as premature facial aging.
Understanding the Dental Implant Difference
Why are dental implants the only way to address the full list of setbacks from missing teeth? Dental implants involve a titanium post that is surgically placed into your jawbone. It creates an artificial tooth root that properly stimulates the underlying bone. Once the implant heals and fuses to the surrounding bone, a dental implant restoration is attached on top. Depending on the number of replacement teeth you need as well as your personal preference, you can choose a custom crown, bridge or denture to be secured to your dental implant. In this way, you can have teeth that feel, function and look just like natural teeth!
Regardless of your stage of life or what caused your missing teeth, we can help you now at 1899 Dental Implant.
Posted on behalf of 1899 Dental Implant
2733 Elk Grove Blvd #160
Elk Grove, CA 95758
Phone: (877) 468-1899
Monday - Thursday 7:30 AM – 6:00 PM
Friday 7:30 AM – 4:00 PM
Saturday 8:00 AM – 5:00 PM
Sunday - Closed