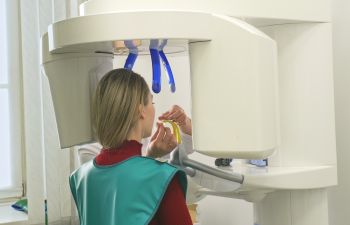 Like most medical fields, dentistry continues to use new technology that can improve the efficiency and effectiveness of the treatments available – especially when it comes to dental implants. At 1899 Dental Implant, we make it a priority to invest in breakthrough dental technology that can benefit our patients for dental implant placement, this undoubtedly involves our 3D Cone Beam Imaging system.
Imaging Advancements
One of the biggest improvements in dental care is the imaging available for diagnosis and treatments. Digital x-rays offer safer, clearer images for routine dental care. When it comes to dental implants, 3D imaging is vital for the highest level of success. When this innovative imaging is used, we refer to this as "guided implant dentistry." This technology can make a drastic difference in how and where your implants are placed, which then impacts implant success and the return on your restorative dentistry investment.
3D Cone Beam Imaging
Like a CT or CAT scan, our 3D cone beam imaging creates 2D, 3D and panoramic images of your mouth and jaw. This gives our dentists a more detailed picture of your teeth, bones and mouth structure. It even shows your dentist the location of your nerves and sinus cavities. This can help in diagnosing dental issues as well as planning intricate procedures like placing dental implants. Although the imaging is much more advanced than a plain digital x-ray, it can be performed quickly and painlessly, just like a standard x-ray. In fact, it can be completed in just seconds without the need for gooey mouth impressions or molds.
1899 Dental Implant, we believe in providing the best care for our patients, using the most advanced, cutting-edge dental technology. Call today to learn more about how our Elk Grove dentists are equipped to provide superior dental implants at an affordable rate.
Posted on behalf of 1899 Dental Implant
2733 Elk Grove Blvd #160
Elk Grove, CA 95758
Phone: (877) 468-1899
Monday - Thursday 7:30 AM – 6:00 PM
Friday 7:30 AM – 4:00 PM
Saturday 8:00 AM – 5:00 PM
Sunday - Closed