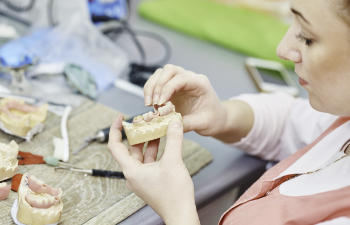 When it comes to replacing missing teeth, each patient has a unique set of circumstances and needs. Thankfully, modern restorative dentistry offers a variety of options to ensure everyone has an opportunity to regain a complete and confident smile. In terms of dental implants, there are different types to meet different needs. Dental implants can vary in size. They come in standard and mini forms. How do you know which type of implant is best for you? Here's some information to help guide you.
Why Does Size Matter?
First, let's confirm that any type of dental implant is better than no implant at all. All implants are surgically placed into the jawbone for unrivaled stability, proper bone stimulation and life-like function. However, there are some differences between a standard implant and a mini dental implant.
A traditional implant is the most widely used option. They range in diameter size from 3.5mm to 6mm. Since they are slightly bigger than the mini version, they have the ability to provide a more stable and longer-lasting solution for missing teeth. Why wouldn't everyone opt for a traditional implant? Standard implants require a certain amount of jawbone density to support them. If a patient is lacking, they may be forced to undergo bone grafting, or they may consider mini dental implants instead.
Mini implants are roughly 2mm to 3.5 mm diameter. Since they are smaller in size, they require less bone structure to anchor them in place. Mini implants are also slightly different in the way they are designed. While a standard implant involves both a post and abutment piece, a mini implant consists of a single component with a ball-shaped end. Thus, the restoration on top (crown, bridge, etc.) must be made with a special O ring to accommodate the mini implant attachment structure.
A big plus for mini implants is that they can often be placed in less time and involve less downtime and recovery. However, the drawback is that mini implants may not offer the same level of success rate as a traditional implant due to the smaller design. This may be especially true if you have a teeth grinding habit, as mini implants may not withstand the extra pressures of bruxism over time.
What is Right For You?
At 1899 Dental Implants, we take the time to carefully evaluate each patient and explain all treatment options. We will consider factors such as your existing jawbone density, your oral habits, your age and the number of teeth that are missing. If you would like to learn more about the differences between mini and standard implants as it pertains to your specific case, please schedule your consult with us today.
Posted on behalf of 1899 Dental Implant
2733 Elk Grove Blvd #160
Elk Grove, CA 95758
Phone: (877) 468-1899
Monday - Thursday 7:30 AM – 6:00 PM
Friday 7:30 AM – 4:00 PM
Saturday 8:00 AM – 5:00 PM
Sunday - Closed