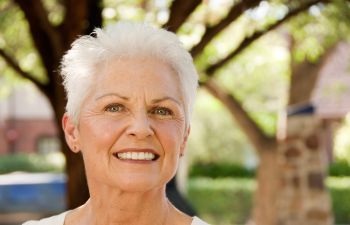 Whether it is poor oral hygiene or a bad accident, tooth loss happens. It doesn't always include multiple teeth. In fact, many patients who seek restorative dentistry only need to replace one missing tooth. Since you still have healthy existing teeth, there is no need for dentures or partials. Instead, we recommend a dental implant when it comes to single tooth replacement.
The Advantages of Using a Dental Implant
Replacing a single tooth with a dental implant provides the most natural solution in terms of feeling, aesthetics and function. Unlike any other tooth replacement options, a dental implant is designed to mimic the tooth's natural root. In doing so, you can prevent future jawbone loss as well as regain a stable and confident smile.
You'll undergo an oral surgery to get a dental implant, and this involves inserting a small titanium post into your jawbone. The jawbone, which needs to be high and dense enough to surround the implant, will fuse to this biocompatible titanium post over time. Once it is firmly anchored into the jaw, your implant restoration can be attached on top or above the gum line. In cases of a single tooth replacement, a dental crown is used as the implant restoration.

Your restorative crown will be fabricated to blend in seamlessly with your existing teeth. Crowns are made of natural-looking porcelain and can be customized in shape, size and color. While you may have to repair or replace this crown in the following 10-15 years, your dental implant should last a lifetime!
The Drawbacks of a Dental Bridge for Single Tooth Replacement
If you need a single tooth replacement, you'll also hear that a dental bridge is an option. While bridges are ideal for some patients who want to avoid oral surgery, they do bring several drawbacks when compared to a dental implant. In order to place a bridge, the healthy teeth on either side of the missing tooth must be filed and altered to accommodate the crowns used to attach the bridge. In addition, it is not uncommon for a dental bridge to leave a minor gap between the artificial tooth and the gums. This area may accumulate plaque and food debris and needs to be cleaned with a special bridge cleaner.
Have you recently lost a tooth? Are you scheduled for a single tooth extraction? Come to 1899 Dental Implant for the best dental restoration at the most affordable price. We offer a broad range of services in implant dentistry to ensure every patient regains the smile they deserve.
Posted on behalf of 1899 Dental Implant
2733 Elk Grove Blvd #160
Elk Grove, CA 95758
Phone: (877) 468-1899
Monday - Thursday 7:30 AM – 6:00 PM
Friday 7:30 AM – 4:00 PM
Saturday 8:00 AM – 5:00 PM
Sunday - Closed