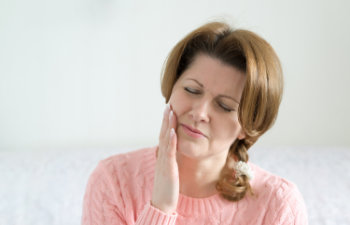 At 1899 Dental Implant, we go to great lengths to ensure your dental implant surgery is successful. It is rare that we have a patient who complains of pain after their full-arch implant dentures. However, it can happen. Please call our office at the first sign of discomfort, as ignoring pain around your dental implants can lead to worsening and even irreversible issues.
Whether it has been days or months since your dental implant surgery, here are some common reasons why you may be experiencing pain:
Bruxism
Are you grinding your teeth while you sleep? While bruxism is never a healthy habit for your teeth, it is one of the leading culprits for dental implant pain. The agitation within your gums and jaw when you clench or grind your teeth during the night can trigger soreness and pain around the implant site. A dental nightguard can mitigate the symptoms of bruxism.
Poor Oral Hygiene
While implant dentures don't require special cleaning regimes and products like traditional dentures, they do need diligent care. Just like your natural teeth, your implant dentures should be cleaned twice a day, and you should visit the dentist every six months for professional cleanings. Neglecting your oral hygiene can lead to complications such as infection or damage to the surrounding tissues.
Inadequate Bone Support
Bone strength is one of the most critical factors in a successful, painless full-mouth implants. Since full-arch implants screw into your jawbone, weak bone support increases the chances of dental implant pain because the implant will not be firmly secure. At 1899 Dental Implant, we carefully evaluate your bone density before placing dental implants.
Smoking
Smoking can exponentially increase the risk of dental implant pain and failure. Smoking can compromise the healing process after implants, which is paramount to the overall success of implant surgery. Peri-implantitis becomes a risk if you smoke, which is a type of destructive swelling of the soft and hard tissue around an implant. One of the easiest ways to avoid smoking-related implant pain is to least one week before the surgery and not start again until two months after the surgery.
If you are concerned about discomfort after your full-mouth dental implants, please let us know. At 1899 Dental Implant, we are dedicated to creating a beautiful and comfortable smile after missing teeth.
Posted on behalf of 1899 Dental Implant
2733 Elk Grove Blvd #160
Elk Grove, CA 95758
Phone: (877) 468-1899
Monday - Thursday 7:30 AM – 6:00 PM
Friday 7:30 AM – 4:00 PM
Saturday 8:00 AM – 5:00 PM
Sunday - Closed