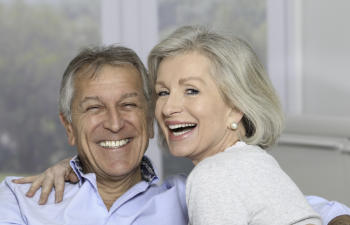 There is no way to avoid oral surgery when you are getting dental implants. These small titanium posts must be surgically placed into the jaw bone so that they can fuse to the underlying bone and form an artificial tooth root to hold your prosthetic tooth or teeth. This anchor system is the hallmark advantage of choosing dental implants. However, not every dental implant surgery is the same. In fact, there are dentists that use minimally-invasive techniques such as the "no flap gum surgery" to greatly improve patient recovery dental implant placement.
Flap Versus Flapless Surgery
The standard technique for dental implant placement is to use a flap gum surgery. This involves making an incision in the gums and peeling back a piece (or flap) of gum in order to reveal the underlying bone for implant placement. However, modern implant dentists have adopted a more advanced and less invasive technique to avoid these gum flaps and the inevitable need for suturing them back in place.
No flap gum surgery (or flapless surgery) can greatly minimize the trauma to the soft tissues during dental implant placement. Instead of cutting and peeling back the gum flap, a small circular area of gum tissue is removed at the implant site. This is performed with an instrument similar to a miniature cookie cutter. Once the tissue is removed, the implant site is prepared and the implant is successfully placed in the jaw bone. Not only is trauma to the gums minimized, but this method requires no sutures since there are no gum flaps involved. For the patient, this fosters a more comfortable and easier recovery after implant surgery.
Post-Operative Benefits of No Flap Gum Surgery
As most minimally-invasive surgeries offer, the flapless gum surgery promotes a better post-operative healing experience for the patient. Compared to standard gum surgery when getting dental implants, the no flap technique is associated with the following:
Less Pain
Less Bruising
Less Swelling
Faster Healing
If you are concerned that your no flap gum surgery will compromise the success of your dental implant, don't be. A recent in-depth study published in the Journal of Oral Research compared patients receiving flap versus flapless surgery when getting dental implants, it was found that the general clinical outcome is not determined by the choice of surgical technique (standard or minimally invasive). Yet, the study did discover an important difference between the methods regarding the level of post-operative pain.
At 1899 Dental Implant, we are proud to offer No Flap Gum Surgery, an advanced and minimally-invasive approach to your dental implant placement that can make post-operative healing quicker and more comfortable. To learn more, please call our Sacramento or Napa Valley office.
Posted on behalf of 1899 Dental Implant
2733 Elk Grove Blvd #160
Elk Grove, CA 95758
Phone: (877) 468-1899
Monday - Thursday 7:30 AM – 6:00 PM
Friday 7:30 AM – 4:00 PM
Saturday 8:00 AM – 5:00 PM
Sunday - Closed