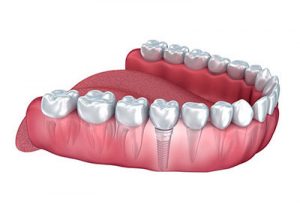 What does bone density have to do with replacing missing teeth?  If you are choosing dental implants, your jawbone density is a major criteria and here's why:
Dental implants are the only tooth replacement option that replaces your tooth roots. The process involves inserting prosthetic titanium screws into the jawbone, which are then allowed to heal and fuse to the jawbone. Once they are tightly anchored into place, replacement teeth (either crowns, bridges or dentures) can be attached to the dental implants. Replacing the tooth root means that the jawbone can be stimulated properly and future bone loss is ideally prevented.
The Solution to Inadequate Jaw Density
Consequently, in order for dental implants to be successful, a patient must have enough healthy bone to support the implants. If you have waited a long time to replace your missing teeth or you have been wearing dentures, you may have suffered from progressive bone loss over time. As much as 25% of bone loss occurs during the first year of losing a tooth! However, before you rule out dental implants due to an inadequate or unhealthy bone structure, you can consider bone grafting. Many experienced implants dentists also offer bone grafting or bone augmentation to restore the quality of the jaw and prepare it for a successful dental implant.
Types of Bone Grafting
There are four different types of bone grafting procedures that can be used to prepare for dental implants including the following:
Socket Preservation Graft – used immediately after a tooth is removed when a bone socket wall is thin and the likelihood of volumetric bone loss is high.
Block Cortical Bone Graft – restoration of the lost bone in the cases where the width and height of remaining bone are insufficient to place an implant in the proper position.
Sinus Lift Bone Graft – utilized to replace missing bone to allow for implant
placement in the back of the mouth.
Guided Bone Regeneration – may be utilized when there is a localized defect in the
bone or only slightly inadequate bone in the area of implant placement.
With today's advances in dental technology and dental implants dentistry, the candidacy for dental implants has greatly expanded. If you were turned away in the past due poor jaw bone density, ask our team at 1899 Dental Implant about the procedures that could possibly restore your chances at the most life-changing tooth replacement system available.
Call 1899 Dental Implant today to learn more.
Posted on behalf of 1899 Dental Implant
2733 Elk Grove Blvd #160
Elk Grove, CA 95758
Phone: (877) 468-1899
Monday - Thursday 7:30 AM – 6:00 PM
Friday 7:30 AM – 4:00 PM
Saturday 8:00 AM – 5:00 PM
Sunday - Closed