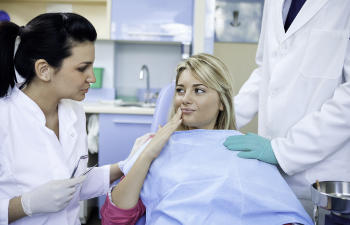 It is not uncommon for patients to dread going to the dentist, especially if you know you need extensive dental work like dental implants. In fact, according to WebMD, dental anxiety or fear is a universal phenomenon that affects between 9% and 20% of Americans. Dental phobia is more serious than dental anxiety, as it involves an irrational fear of going to the dentist that can leave a patient panic stricken and terrified over dental visits.
Since people with dental phobia may avoid dental care altogether, it is not surprising that serious oral health issues like tooth loss are more likely to occur in these individuals. Unfortunately, this warrants tooth replacement and dental implant surgery is far more invasive than a simple routine teeth cleaning.
If dental phobia is keeping you from getting the restorative dental attention you need, it is important to find a dentist who focuses on patient comfort and offers sedation dentistry. At 1899 Dental Implant, we understand how to cater to anxious patients and those with more severe dental phobia by providing a relaxing and soothing office environment, attentive staff and sedation dentistry.
Causes and Risks Dental Phobia
There are many reasons for patients to develop dental phobia. For some, it may be a bad dental visit as a child. For others, it could be a fear of needles or lack of control while in the dental chair. Your condition may range from a racing heartbeat and sweaty palms to a paralyzing fear. Regardless of the reason or severity of your dental phobia, there are ways to help.
Avoiding the dentist for routine care should never be an option. A small, asymptomatic area of decay can quickly progress to a painful tooth infection that destroys your surrounding bone. Gum disease is no different. In fact, treating gum disease at its earliest stages is critical if you want to save your natural teeth.
Overcoming Your Fear of the Dentist
There are many ways to help a patient who has dental phobia, so never be afraid to disclose your struggles. Beyond providing a calming environment, we can explain each step of your dental implant procedure in detail so that you know what to expect on the front end. We encourage patients to bring a friend or family member if that reduces their anxiety.
While these methods are certainly helpful, we also offer sedation dentistry as the most effective way to help patients relax. Getting dental implants is a multi-visit process and we will tailor our sedation dentistry services to address your level of anxiety at each appointment. Don't let dental anxiety or dental phobia keep you from rebuilding your smile, we are confident we can help you feel at ease when it comes to your tooth replacement procedure.
Posted on behalf of 1899 Dental Implant
2733 Elk Grove Blvd #160
Elk Grove, CA 95758
Phone: (877) 468-1899
Monday - Thursday 7:30 AM – 6:00 PM
Friday 7:30 AM – 4:00 PM
Saturday 8:00 AM – 5:00 PM
Sunday - Closed