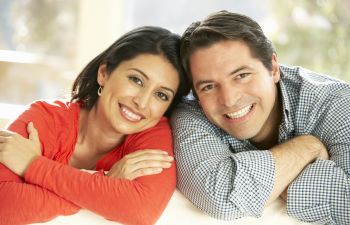 Far too many patients are living with ill-fitting dentures or missing teeth and suffering from the consequential nutritional imbalance. When the teeth are missing or don't feel stable, it is common to resort to a soft-foods diet. Unfortunately, this often means a diet that is high in carbs and cholesterol and very low in protein, vitamins and minerals. Over time, this can take a drastic toll on whole-body health.
What's the solution to normal eating and a healthy diet after missing teeth? In most cases, it is dental implants. Dental implants are the only restorative treatment that replaces both the tooth and the tooth root. When prosthetic teeth (crowns, bridges or dentures) are anchored to the jawbone with titanium implant screws, patients can achieve the stability and comfort of "real" teeth. When it comes to eating, this means they can enjoy dietary freedom and keep eating the meats and fibrous fruits and vegetables that may be harder to chew but vitally necessary for their long-term overall health.
How Missing Teeth and Ill-Fitting Dentures Impact Nutrition and Health
We all know that nutrition is a key component of healthy living. When teeth go missing in the mouth or when dentures feel loose or unstable, it can cause patients to compromise their nutrition due to the difficulty of eating certain foods. While it may be okay for your loose dentures to keep you from eating a Snickers bar, it is not as favorable if you are avoiding apples, chicken or even lettuce. Many of the necessary proteins, fruits and vegetables that our bodies need for optimal health are not easy to consume if you have missing teeth or dentures that come loose easily. The long-term repercussions of a soft-foods diet are serious and can include diabetes, obesity, heart disease and a range of other medical conditions related to malnutrition.
Talk to a Dental Implant Specialist
At 1899 Dental Implant, we recognize the profound benefits of dental implants as it pertains to your ability to eat and overall nutritional health. This is a substantial long-term advantage that must be considered when paying the extra cost upfront for dental implants. If you are currently limiting your intake of hard-to-chew foods because of loose dentures, please consult our team at 1899 Dental Implant. We can stabilize your dentures with a set of dental implants and help you eat well again!
Posted on behalf of 1899 Dental Implant
2733 Elk Grove Blvd #160
Elk Grove, CA 95758
Phone: (877) 468-1899
Monday - Thursday 7:30 AM – 6:00 PM
Friday 7:30 AM – 4:00 PM
Saturday 8:00 AM – 5:00 PM
Sunday - Closed