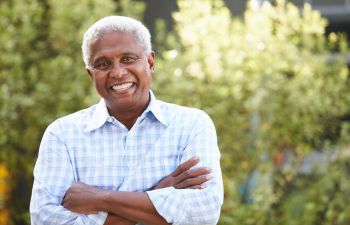 Experts agree that dental implants are the most preferred method for replacing missing teeth. Not only do they provide a natural-looking prosthetic tooth, but they also offer an artificial tooth root that is surgically inserted into your jaw bone. The life-like smile you'll attain with implant dentistry is unrivaled. However, dental implants do require a notable investment, which must be protected.
Dental implants are a permanent restorative dentistry solution. While they can be cared for just like natural teeth, their long-term success relies on certain factors. Beyond routine brushing and flossing, you can protect your dental implants from early failure by not grinding or clenching your teeth. In fact, bruxism can be detrimental to your TMJ, your natural teeth and your dental implants if it goes unchecked.
What Is Bruxism?
Bruxism is the clinical term for habitual teeth-grinding or clenching. This often subconscious habit can put tremendous pressure on your jaw and teeth. Over time, this can become quite destructive. While untreated bruxism can compromise healthy teeth and jaws, it can also threaten prosthetic dental work such as dental implants.
Understanding How Teeth Grinding Can Damage Your Dental Implants
Dental implants are posts of biocompatible titanium that act as your tooth roots. They fuse to your jawbone and allow your implants and implant restorations to become a permanent part of your anatomy. This process of fusing to the bone (called osseointegration) is the benchmark of a dental implant's success. If you grind or clench your teeth, your implants may not properly fuse to your jawbone, which is a top reason for dental implant failure.
Grinding and Implant Restorations
The implant itself is not the only risk if you grind your teeth. You'll also be subject to damage to your implant restorations, or the prosthetic teeth that attach to your implants (crowns, bridges or dentures). Just like natural teeth, your implant restorations can crack or chip under the excessive pressure and friction of bruxism.
Address Your Bruxism and Extend the Lifespan of Your Dental Implants
At 1899 Dental Implant, we help patients understand the factors and conditions that could contribute dental implant failure. While this restorative dentistry solution carries a remarkable success rate, dental implants do need proper care. We know that bruxism has been known to pose a major threat. Talk to you dentist about how to stop your teeth grinding and protect your dental implant investment.
Posted on behalf of 1899 Dental Implant
2733 Elk Grove Blvd #160
Elk Grove, CA 95758
Phone: (877) 468-1899
Monday - Thursday 7:30 AM – 6:00 PM
Friday 7:30 AM – 4:00 PM
Saturday 8:00 AM – 5:00 PM
Sunday - Closed