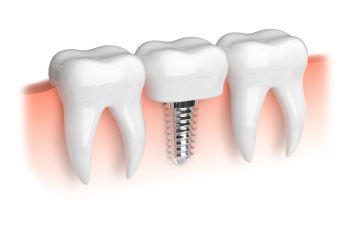 Just like many popular dental treatments, there are some common misconceptions surrounding dental implants. Dental implants are the gold standard for replacing teeth, and they offer astounding benefits towards your smile appearance, your overall health and your quality of life. If one of the following myths is keeping you from getting dental implants, we want to set the record straight.
"Dental implants are more expensive than traditional restorative methods."
This one is tricky to answer, but it is important that you hear the whole truth. While dental implants do require a more notable investment upfront, their total expense over time can be far less than traditional options. For example, bridges may need to be replaced after 7 to 10 years and dentures will require special adhesive and cleaning products, periodic adjustments and even a full replacement after several years. Dental implants, on the other hand, require no extra maintenance. They are considered a life-long restorative solution – the best return on your investment!
"Dental implants are really painful."
With sedation dentistry, modern anesthetics and computer-guided imaging, your oral surgery to get dental implants is no worse than a simple tooth extraction. It is common to feel discomfort during any type of invasive dental procedure, but dental implants are not considered a "painful" process.
"Implant failure is a primary risk."
This is far from true. Dental implants carry an exemplary success rate of over 98%!  That doesn't mean failure can't happen, but it is quite rare. If you do not have adequate bone structure to support the implant, your dentist will either recommend a different restorative option or perform bone grafting before implant surgery.
"Dental implants are not for the elderly."
There is no age limit to getting a dental implant. An aging adult can absolutely get dental implants. As long as he or she is in good overall health and free of gum disease, an elderly person can benefit from dental implants just as much as a younger adult. In fact, if used to replace multiple teeth, an older patient can attain a better quality of life and the ability to eat and speak better.
If you want to determine your candidacy for dental implants in Elk Grove, call the implant specialists at 1899 Dental Implant. We are happy to give you accurate and true information about what dental implants can and can't do.
Posted on behalf of 1899 Dental Implant
2733 Elk Grove Blvd #160
Elk Grove, CA 95758
Phone: (877) 468-1899
Monday - Thursday 7:30 AM – 6:00 PM
Friday 7:30 AM – 4:00 PM
Saturday 8:00 AM – 5:00 PM
Sunday - Closed