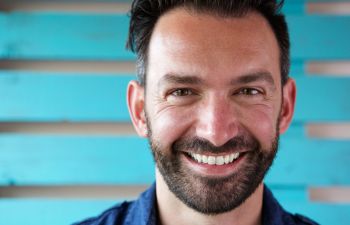 Dental implants require the surgical placement of titanium posts or screws into your jawbone. To do so, the dental surgeon must go through the gum tissues. The traditional method of implant surgery involved major incisions and flaps on the gums to access the underlying bone. Contrary to what you may assume, it is these cuts in the tissues, not the bone, that primarily contribute to the pain and many other unwanted side effects from implant surgery.
Finding a dentist that offers No Flap Gum Surgery can drastically change your dental implant experience. Instead of linear incisions, flaps of gum and multiple sutures, 1899 Dental Implant can surgically place dental implants much more conservatively. Much like a cookie-cutter, a special instrument is used to remove a very small circular piece of gum tissue at each implant site. This is an incision-free and flap-free approach that can eliminate many aspects that you may be fearing about your upcoming dental implant surgery.
No Flap Gum Surgery relies on guided imaging and cutting-edge technology in the hands of a highly skilled implant dentist, allowing patients to reap the following benefits from their implant surgery:
Minimal pain during and after the surgery
Almost no bleeding during the surgery
None or mild post-op swelling
No bone resorption because there is no disruption of blood supply
Much lower risk of infection than conventional procedure
No gagging or breathing problem during surgery due to lack of simultaneous irrigation
Minimal noise or vibration due its innovative low-speed drilling
Extremely low risk of damage to nearby nerves or other important anatomic structures
Safer for medically compromised patients
To learn more about minimally invasive implant surgery in Elk Grove, please call 1899 Dental Implant. Our dentists pursue the latest and most preferred ways of placing dental implants.
Posted on behalf of 1899 Dental Implant
2733 Elk Grove Blvd #160
Elk Grove, CA 95758
Phone: (877) 468-1899
Monday - Thursday 7:30 AM – 6:00 PM
Friday 7:30 AM – 4:00 PM
Saturday 8:00 AM – 5:00 PM
Sunday - Closed