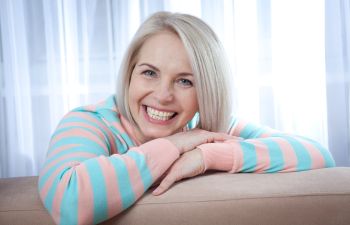 We know the cost can be intimidating. However, dental implants offer one of the most remarkable returns for your investment compared to any other dental treatment available. First and foremost, choosing implant dentistry means you are protecting yourself against the setbacks of missing teeth.
Missing teeth pose a number of oral health risks. Not only do empty gaps in your smile impact your speech and eating, but they also cause shifting teeth, cleaning challenges, bone loss and other dental health issues. Unlike other forms of tooth replacement, dental implants are meant to be permanent and can anchor your prosthetic teeth into your jawbone just like real tooth roots.
Top 3 Advantages of Dental Implants
If you are still on the fence about investing in dental implants to replace your missing teeth, you should consider these important benefits:
#1 Long-Lasting
Dental implants are superior in durability. While you may need repair or replacement of the implant restoration over time, the dental implant itself can last a lifetime!
#2 Mimics Natural Teeth
Not only are dental implant prosthetics crafted to look just like real teeth, but they can also function and feel natural too. Prosthetic teeth that are securely anchored into your jaw bone allow you to chew, speak and laugh with the confidence you had before missing teeth.
#3 Easy Maintenance
Unlike many dentures, you'll never need to remove dental implants or add special care routines. Instead, brushing twice daily, flossing once a day and seeing your dentist twice a year is all you need to keep both your real teeth and your dental implants in top condition. Of course, you should protect your implant investment by avoiding chewing on non-edible objects and wearing a mouth guard during contact sports.
The Affordable Dental Implant
At 1899 Dental Implant, we know that expense is often an obstacle to choosing implant dentistry. However, we believe this gold standard treatment is the best way to restore your smile. That's why we have made our top quality dental implants as affordable as possible. Call today to learn more about low cost implants in Elk Grove.
Posted on behalf of 1899 Dental Implant
2733 Elk Grove Blvd #160
Elk Grove, CA 95758
Phone: (877) 468-1899
Monday - Thursday 7:30 AM – 6:00 PM
Friday 7:30 AM – 4:00 PM
Saturday 8:00 AM – 5:00 PM
Sunday - Closed