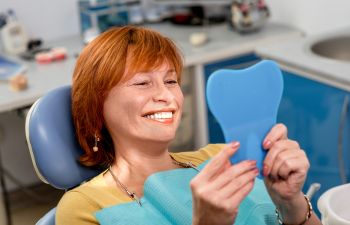 While dental implants offer remarkable advantages towards your appearance, health and quality of life, they do require an oral surgery and step-by-step treatment process. If you are thinking of getting a dental implant to replace a missing tooth (or teeth), it is important to understand exactly how the implant will be placed into your smile.
The Consult
It all starts with a simple conversation with your implant dentist. At 1899 Dental Implant, we allow ample time during these consultations to help patients feel comfortable about their decision to get dental implants. During this consult, we will discuss the purpose of a dental implant and how it works compared to other restorative treatment options. You'll also have a chance to ask questions and express your concerns about implant dentistry.
Preparation
Every patient is different. While some may already have missing teeth, other patients arrive with a full set of teeth but with significant damage, disease or decay. If no treatments can save the tooth, your preparation may involve extracting your damaged teeth first. Digital images and impressions will also be performed so that your artificial teeth can be customized to the perfect size, shape and color.
Your First Dental Implant Surgery
In traditional dental implant placement, the next step is to surgically place the titanium screw (implant) into your jawbone. Sedation dentistry and local anesthetics are used to keep you comfortable during this surgery. You'll leave with a closed incision in your gums and instructions on keeping the site clean during the subsequent healing period. The healing period after implant placement can be a period of several months, as this is what is needed for your implant to fuse to the surrounding bone and form an anchor for an artificial tooth.
The Next Step
When the patient is ready, the next stage of the dental implant process takes place. During this procedure, the gums will be reopened to expose the top of the implant post. A smaller component, called an abutment, is attached to the post. It will be visible just above the gums and also require a period of healing.
Finishing the Implant Process
The final step will include attaching the implant restoration, which is a crown, bridge or denture depending on your unique needs in teeth replacement. You can trust that the implant restoration will secure, comfortable and natural-looking. You should be able to confidently speak, laugh and eat after your final implant stage is complete.
Restore your smile today
Have more questions about what the dental implant process entails? Talk to our team at 1899 Dental Implant. Restoring your smile is something we take very seriously!
Posted on behalf of 1899 Dental Implant
2733 Elk Grove Blvd #160
Elk Grove, CA 95758
Phone: (877) 468-1899
Monday - Thursday 7:30 AM – 6:00 PM
Friday 7:30 AM – 4:00 PM
Saturday 8:00 AM – 5:00 PM
Sunday - Closed