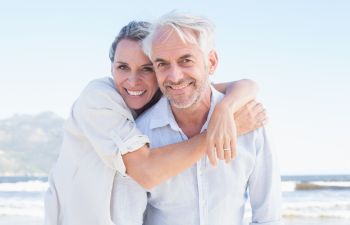 The reason dental implants are in such demand for replacing missing teeth is their amazing ability to look, feel and function like natural teeth. Our patients love the natural beauty and comfort of their dental implants. A dental implant, however, has more than one component. What makes it so unique is what you don't see below the gum line, which is a small titanium post that has been surgically inserted into your jawbone to act like a tooth root. What is visible above the gum line is the implant restoration. For single tooth replacement, this is typically a cosmetic dental crown that has been attached to the dental implant (using its abutment piece that pokes thru the gums).
However, like natural teeth, dental implants need ongoing care. Good oral hygiene is important, with regular checkups like natural teeth. When it comes to dental implant repair, this usually involves the dental crown or other implant restoration that sits on top. While your dental implant is designed to last a lifetime, the crown that is placed on the implant does have a certain life expectancy. At 1899 Dental Implant, we not only create beautiful dental implants, but we also help maintain them with our implant repairs and restoration services.
When Implant Repairs Involve Your Crown
Dental implants are covered with dental crowns that look and function naturally. However, they are the most common component to need repair on a dental implant. Cracks, chips and other damage can occur that need repair. Our office can quickly repair a damaged crown or replace it if necessary. We know that time is of the essence when you are waiting on tooth replacement, so we promise a fast resolution when your dental implant crown is damaged. In most cases, this is a simple and easy fix since we already have the measurements and digital molds of your implant restorations on file.
Dental implants are a significant investment but can last the rest of your life with proper care. If your dental implant needs restoration or repair, come see our experts at 1899 Dental Implant. We can help you protect your investment and provide ongoing care for your dental implants and oral health.
Posted on behalf of 1899 Dental Implant
2733 Elk Grove Blvd #160
Elk Grove, CA 95758
Phone: (877) 468-1899
Monday - Thursday 7:30 AM – 6:00 PM
Friday 7:30 AM – 4:00 PM
Saturday 8:00 AM – 5:00 PM
Sunday - Closed